Exercises, Mentoring, Shadowing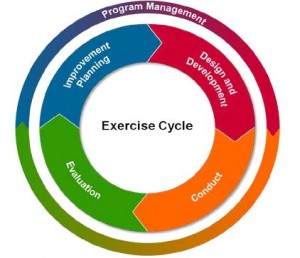 IMTC's cadre of exercise developers, mentors, coaches, and evaluators bring with them the experience of hundreds of incident responses when they conduct exercises.
Why exercise? The NIMS Training Program recognizes that training courses, like those developed and presented by IMTC, are a critical building block in the development of qualified personnel. However, qualification to hold an ICS position requires the individual to actually perform the skills to demonstrate mastery of them. For that reason, practice and experience must be gained through multiple exercises or experience on actual incidents or events in order to hone and then fully demonstrate an individual's qualification. IMTC assists in designing exercises that will provide multiple opportunities for personnel to practice the skills they seek to master. Utilizing IMTC mentors reduces the risk to you and your organization because an experienced person is working along-side your trainees, mentoring, instructing, or evaluating.
Exercises are vital to preparedness activities by enabling your jurisdiction, agency, or company, as well as your stakeholders to test and validate plans and capabilities, improve personnel's level of performance, document the mastery of skills, and identify both capability gaps and areas for improvement.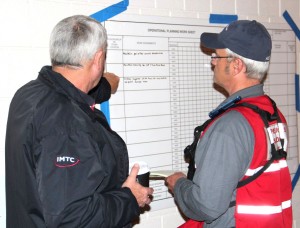 Although exercises can require a considerable commitment of resources and energy, exercises are cost-effective and useful tools that will assist you by enhancing your overall incident management capability. As an example, IMTC can assist your exercise designers working on a statutorily-required exercise by designing additional objectives, injects, and scenarios that more fully test or validate your incident management capability.
Remember the analogy; from a risk management standpoint, it is far less risky to your organization to find a mistake on the practice field and correct it prior to the game then finding the mistake during the actual game in front of everyone.
IMTC delivers the subject matter expertise, exercise design services, exercise conduct, and mentoring services required to professionally develop, field-test, and continually improve incident management teams and their performance.
Call now to learn more about IMTC's expertise in exercises:
Exercise Design – HSEEP or non HSEEP format
Exercise Conduct – Controllers, role players, SimCell