Capabilities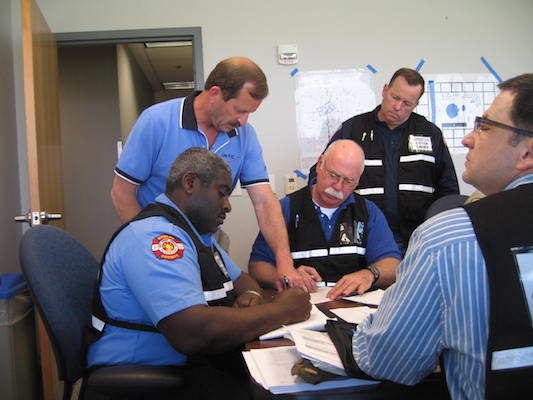 For over a decade, IMTC has been recognized as a full-spectrum All-Hazards incident management consultancy, providing solid and reliable solutions for federal, state, and local agencies, departments, jurisdictions, private and public companies, and non-governmental Organizations (NGOs) seeking to develop, implement, enhance, or sustain their current incident management capabilities. Our services can range from a single course presentation to a comprehensive incident management program — IMTC has developed the expertise to professionally guide you and your personnel through the entire process.
Incident Management Focus
IMTC focuses in all aspects of on-scene incident management (Incident Management Teams, All-Hazards Incident Management Teams, and Incident Management Assistance Teams), off-site coordination activities (Joint Information Centers and Emergency Operations Centers), Area Command functions, Multi-Agency Coordination activities, and incident management processes using permanent/fixed incident management facilities (Hospital Incident Command System, Source Control, and Department Operations Centers).
Our Specialties
IMTC specializes in incident management program analysis and research, program initiation and administration, curricula development, training course presentation, and design and/or execution of HSEEP-compliant exercises. On-site mentoring, Position Task Book administration and completion, development and presentation of skills enhancement or sustainment exercises and experiences assist in maintaining the high skill level required for immediate response. In addition, we provide on-site incident response job shadowing, mentoring, and deputy positions to ensure your personnel's success and assist in meeting regulatory demands and requirements.
Includes peer and background research, program administration, development of Standard Operating Guidelines, development of enabling instruments, plans, policies, procedures, and other related assistance to developing an incident management team or capability, whether All-Hazards or industry/hazard specific.
This includes all courses for the development or sustainment of incident management capability for Type-3 Incident Management Teams, All-Hazards Incident Management Teams, industry/hazard specific Incident Management Teams, Emergency Operations Centers (EOCs), and Department Operations Centers (DOCs).
Exercises or simulations, either in Homeland Security Exercise and Evaluation Program (HSEEP) format or non-HSEEP format, FAA Triennial, and other related activities that provide hands-on experiential learning are critical components of IMTC's services.
Laminated wall-sized ICS forms, Planning Process graphics, Operational Planning Worksheets (New All-Hazards ICS-215 worksheets, ICS-215A worksheets), All-Hazards Job Aides, and the highly acclaimed All-Hazards Incident Management Team Response and Planning Guide (AHIMT-RPG) are featured.